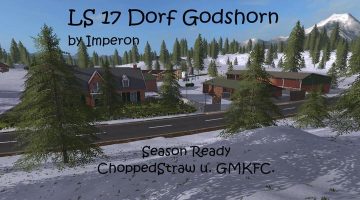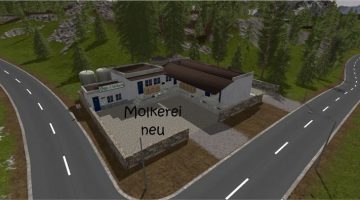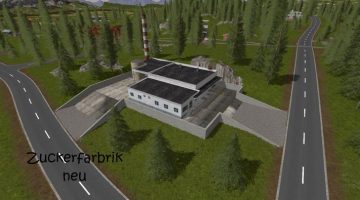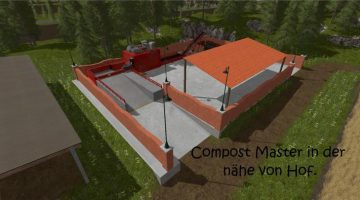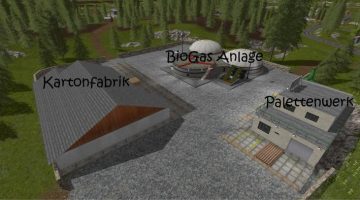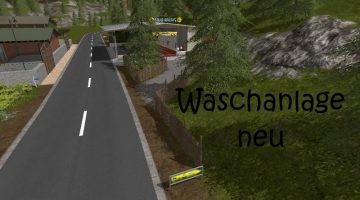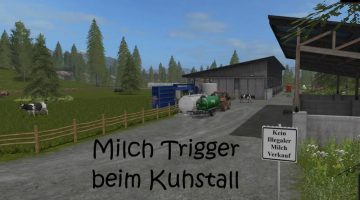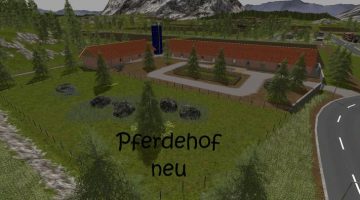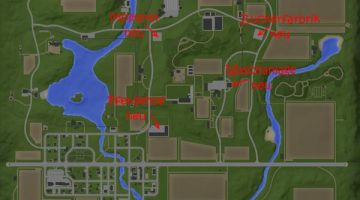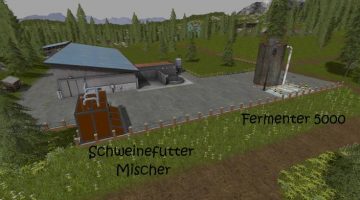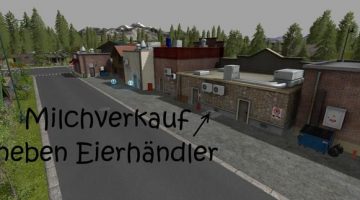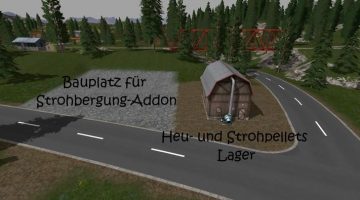 Dorf Godshorn v1.6.0.0 FS17
Goldcrest Hills map rebuilt standard map,
Version 1.6.0.0
Field 1: 2 ha fertilizable meadow
Field 2: 0.5 ha fertilizable meadow
GTXMODS with light between 21-6 o'clock
BioGas purchase installed
Forgotten Plants Texture Set 1.1.0
Hay and straw pellets warehouse
Construction site for straw rescue addon
Built mods:
Electric fence by Fendtfan1
Pallet collector of Marhu
Digital Ads by BPG
Brewery and Bakery by joker35
Fertilizer, seeds and gas at the farm
New halls with gates and chopped straw ready.
Built mods:
Farm gas station of AI-Modding (new trigger set)
Luxury House of 20mmNormandy (Large Scale)
Halls Pack by RedSky (large scale)
Machine hall and objects pack of Arii
ChoppedStraw by Webalizer
Required Mod: Chopped Straw For Harvesters
Farm loaded with new texture and GMKFC Mod.
Gates animated, wall and lights with switch installed.
Built mods:
Gates and lights of Arii
Walkways of Desperados93
Hedge of Fendtfan1
Version 1.3.0.0
New foliage texture and GMKFC mod 3.0.
Built mods:
Textures by El Cid
Shelves of lebaronxz
Streets of Fatian
CompostMaster by Farmer_Andy
Required Mod: Kotte Universal Pack 1.0.0.6
Version 1.4.0.0
Animal Pedestrian by Pietrykov
Dog, cat, gull, horses etc.
Built mods:
SA Zentralhandel, BioGas plant, pallet plant,
Cardboard factory and greenhouses of Zews
Strawberries, raspberries and redcurrant
Version 1.5.0.0
Season Ready
Built mods:
Horse stable of Rene248
Milk Trigger from kevin98
SA Dairy and Sugar Factory of Zews
Car wash from 112TEC
Fermenter 5000 and pig feed mixer from GTXMODS
Required Mods: Stop milk sales and Seasons – Mod
Version 1.6.0.0
Field 1 : 2 ha fertilizable meadow
Field 2 : 0.5 ha fertilizable meadow
GTXMODS with light between 21-6 o'clock
BioGas purchase installed
Forgotten Plants Texture Set 1.1.0
Hay and straw pellets warehouse
Construction site for straw rescue addon
Built mods:
Electric fence by Fendtfan1
Pallet collector of Marhu
Digital Ads by BPG
Brewery and Bakery by joker35