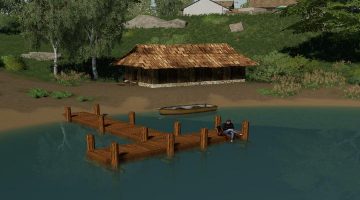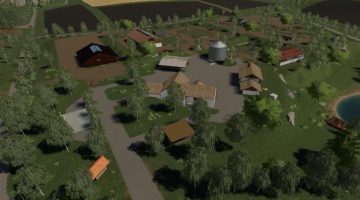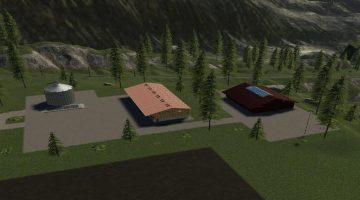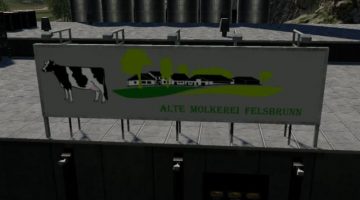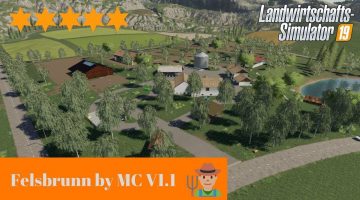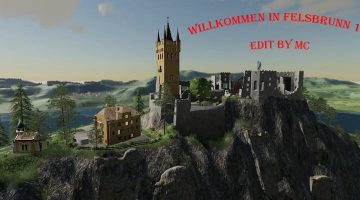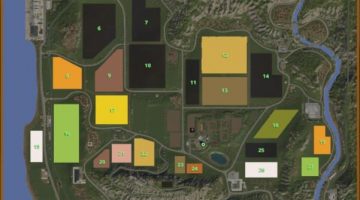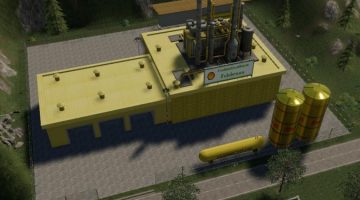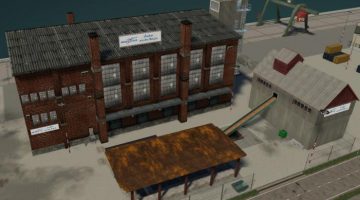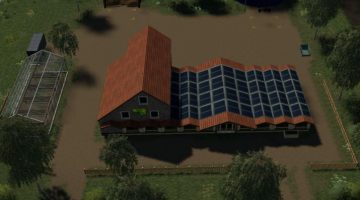 FS19 Felsbrunn Edit By MC Multifruit v1.3
For information: The factories are for now only sales points and not yet
intended for the production of goods, etc., because the factory script is still
not available.
For a rating I would be very
grateful.
Hello LS19 fans
Hereby I make my converted Felsbrunn 1.3 Multifruit available to all. I put the farm on a different terrain
and the stables of the animals are also housed in the farm. Also, I have a few small things installed with which you must explore yourself. The launch vehicles and takeoff fields are also changed. I hope you like my processed Felsbrunn.Einige open spaces are also available.
I have done my best and the log is up on the bush01 which is a bug of Giants error-free. Still, I do not exclude errors that were not apparent to me. If someone finds fault, please let me know.
I will try to change that.
The PDAMap version 1.3 Multifruit is now in several sections scanned, assembled by hand and included in this version for the first time.
Much has been rebuilt, replaced or redesigned which requires a new score. Also new fruit varieties were installed such as rye, hops, millet, carrot, onion and sorghum. However, these fruit types are all excluded from field missions (disabled) because they cause an error in the log. The log is so far except for the errors caused by Giants own error and error messages. Still, I do not exclude minor inattention on my part in the design of the map, such as: floating objects, etc.
And now I wish you much fun with the Felsbrunn
MC / Jürgen
To have a small idea of ​​the map, everyone can watch the 3 videos that can be found below videos.
I would be happy about comments and suggestions :
Version 1.1
Built-in objects and buildings as well as new open spaces: small shelter, washing area with vacuum cleaner dummy, zeppelin or airship, motor boat with sound and beat of mole 63, church with sound and bells, smaller various installations, vendingable halls of Vertex Dezign in 4 different sizes, buyable straw storage from Hasco for grass hay straw silage and woodchips as well as for grass hay and bales of straw all loose loose bulk material are again available, buyable cutting shelf of San Andreas, PDA newly adjusted, Telescop decoration installed, eagle with sound, kiosk stairs flag etc on the ruin built in, Dairy = milk and egg sales and agricultural trade = wheat, barley, oilseed rape,
Sunflowers, soybeans, corn, potatoes, sugar beet, sugarcane sale installed, ways a little redesigned (user request)
Version 1.2
Garden center (manure and manure sale), fuel production (soybeans, sunflowers and rapeseed sales), flour factory (wheat, barley, oats and corn sales), observation tower, WhiskyRum factory (sugar beets, sugarcane and corn sales) and sugar factory (sugar cane and sugar beet sale) installed. As well as many small and bigger changes in the terrain. Furthermore, signs, signposts and many small details are installed. The forest was also enlarged a bit.
Furthermore, I would like to thank Hasco quite sincerely for a correction of a trigger at the BGA, which was created by Giants. Thus, now the bales sell better at the BGA.
Credits:
Motorboat with Sound and Beat by Mole 63, Vertex Dezign Chairs, Hasco Stover, Hasco Cutter Shelving
I would like to sincerely thank everyone for the release of the objects.
Version 1.3
1) Old sawmill replaced by new one
2) Lighting installed in the yard
3) built barriers
4) brewery built
5) built in several sounds
6) Beach hotel and decoration installed
7) Seagulls fish from my old Mc's agrarian worldmap
8) New open spaces
9) New stable with boxes installed Credits: Tbereit1 (with permission to change the stable and the navmesh)
10) New gas station installed
11) Lidl installed
12) self-made hudfruits of all types of fruit
13) onions carrots millet sorghum rye hops incorporated (new fruit varieties with field missions disabled due to error in log)
Credits NewVehicleShop: Dachschilder: Kirtz Pierr, ShopConstruction: Joerg_B, Deco: AllgäuerGarde, Claas_Evolution, speedy77,