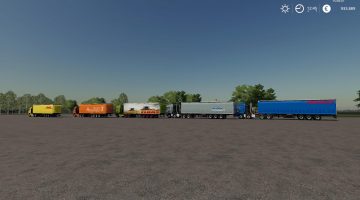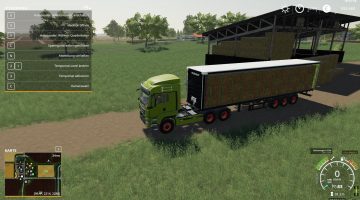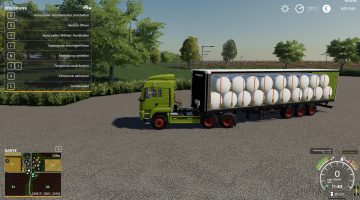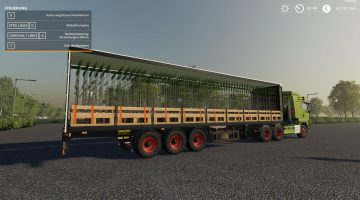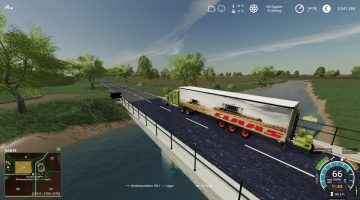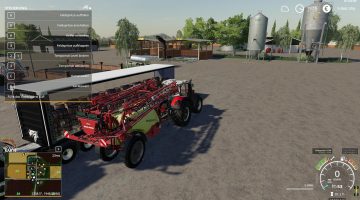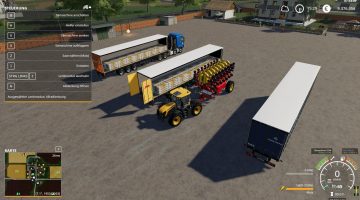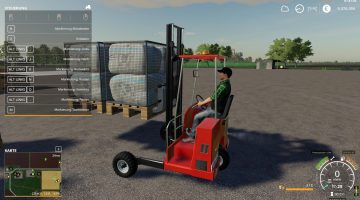 FS19 Fruehauf Planenauflieger mit Stapler v4.3.2
Fruehauf curtainsider trailer with truck-mounted forklift.
Version 4.3.2
Fruehauf Version 4.3.2
-smaller adjustments carried out forklift
version 2.0.1
– autoloader adapted to Global Market.
!Caution! The Mod Easy Autoload is mandatory. You can download it here for free (registration required): Download Easy Auto Load
And as always, the mod is exclusive to the LS Modcompany forum and the LS Mapping Team forum. Uploading again with the original download link is not permitted without my prior approval.
Support only
Furthermore applies to all Mod File Base, Modklau sites etc. That the description is not changed and only the original link is to be used. There will be no support on either side except for the two above.
The Giants GTC still apply. Here in particular §7
According to §7 of the GIANTS AGB I grant GIANTS very far-reaching rights to my mod. But that only applies to GIANTS. To all others, I only grant the right of use. All other rights remain with me. So it is in §7.1 of the GIANTS GTC
If the customer creates any user generated content for the games, he retains the rights to the content generated by him. The customer grants GIANTS the right to use the user generated content generated by him.
Finally the Fruehauf has been extensively rebuilt together with the forklift.
For tarpaulin trailers:
It has 5 different configurations: Standart, Autoload XXS, Autoload, bulk goods and liquids.
It's easier to write what he can't do: fill diesel into machines.
Config standard: only the basic functions. Tarpaulin and rear doors
open and close , tension belts Konfig Autoload and Autoload XXS: The well-known autoload from Alfalfa (thanks for that). With the XXS version, the pallets must be placed on the loading surface. As in the old version, the IBC tanks (liquid fertilizers and pesticides) do not fit side by side on the loading area, so the transport should take place with the autoload activated.
16 pallets, 12 board pallets, 36 big bags, 18 IBC tanks, 36 boxes, 18 seedling pallets, 33 square bales, 38 round bales, 180 egg boxes, 16 mission pallets and 2 cotton bales can be loaded.
!!! Watch out! The Mod Easy Autoload is mandatory. You can
download it here for free (registration required): Download Easy Auto Load
Config Bulk goods: you can drive bulk goods from A to B, threshers, fill up, fill machines, etc. Capacity 60000L.
Config liquids: The same as for bulk goods only with liquids of all kinds capacity 60000L.
If anything is missing from the goods, please report it, you can add it.
For the forklift:
It has two configurations: standard and autoload. The Konfig Autoload can transport 2 pallets, 1 board pallet, 2 boxes, 2 big bags and 1 IBC tank. Unloading is possible either on or in front of the fork.
!!! Watch out! It is not possible to secure the truck in the Autoload configuration using a tension belt at the rear. The autoload script does not take the TensionBeltObject specialization required for this. However, thanks to DynamicMountTrigger and CAREFUL driving style, it should still hold.
Last but not least, my thanks go to my testers Uncle Mars, Blueraidsix, ralfrhoen, Mushu, Pulimatrix, etebteb and Agarwen who all contributed to a flawless mod whether single player, multiplayer or dediserver.