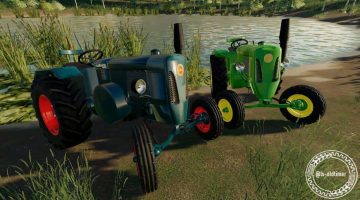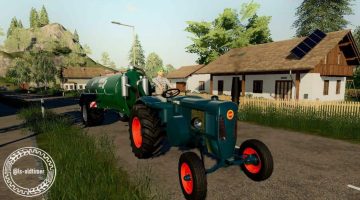 FS19 Lanz D6016 made v0.9.0
Lanz Bulldog for LS19. Motor variants D5016, D6016, D6516
After a long and careful consideration, I would like to make my first mod available to you today.
Some of you already know the model from my Instagram page and it was about time that I published one of my classic cars.
It is the Lanz Bulldog D6016. This was my first self-made mod.
Price: 12500, –
Power D5016 – 50PS
Power D6016 – 60PS
Performance D6516 – 65PS
Configurations:
-Three tire variants
-Three engine configurations of model D5016, D6016 and D6516
-Design configuration Lanz Blue and John Deere Lanz Green
-Color choice of radiator elements
-Color choice of rims
-Color choice blue or green
I wish you all a lot of fun with the Bulldog! And remember —> if it doesn't smoke it has no performance!
Helper:
"qwertzuioqwe" original sound recordings.
"DB601" wheel hubs
"oldenfarm" i3d adaptation, mod bring it to the 19 standard