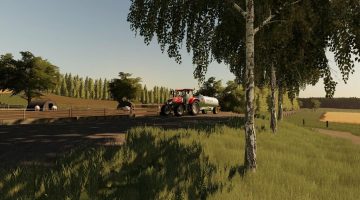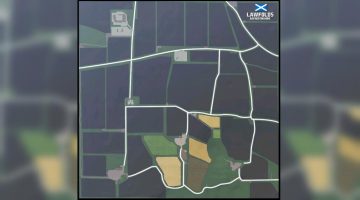 FS19 Lawfolds, Aberdeenshire v1.0.1.0
Lawfolds is based around a real working farm in the fertile rolling hills of Grampian, Scotland. There are two additional farms, East Law where the sheep can be found, and Newton of Lewesk is where the Cows are located.
Changelog 1.0.1.0:
– You can now sell Vehicles at all workshops.
– Cow shed now has collision.
– Sleep trigger at main farm is now static at main farm to prevent issues.
– Eastlaw now has a working workshop.
– Fixed issue where buying from shop would spawn you behind shed.
– Certain fields not dropping straw from combines fixed.
– More filltypes added to highland storage.
V1.0.1.0
This map features:
– Three Working Farms, two which have independent Grain Silos. Three Forestry Areas around the map.
– Four Different Sell Points (Aberdeen Grains, Highland Grains, Aberdeen Northern Marts Group and Housing Estate) for the various crops.
– High Capacity Storage at Highland Grains so you can store those crops waiting for free of charge.
– Seed and Fertiliser points on the Farms and at two sell points, as well as storage for the pallets on the farms for those who prefer to use them.
– Prices have been increased slightly higher than base game. Missions on all fields not owned, to help get those prices down.
– Please be aware all hedges, fences and walls have collisions, however there are sizeable grass headlands around the fields to help those workers out.
– Animated Gates and Lights to most of the Farm Buildings. Automatic Lights at the sell points.
– Seasons ready
Many thanks to the makers of the models and my testers!