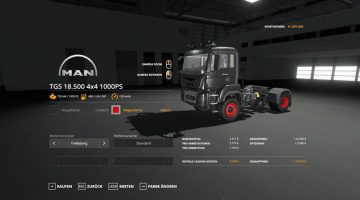 FS19 MAN TGS18500 – 1000PS v1.2
The MAN TGS18500 1000PS Edit
Version 1.2
-> New motors added. 570hp | 730hp | 1000hp
-> New shop image added.
The following has been changed so far:
-> Engine power raised to 1000hp …
-> 120km / h speed …
-> purchase price set to 112.250 € …
-> LifeTime set to 1000h.
-> THIS MOD IS 100% MP PERFECT!
The mod has been tested!
LOG completely ERROR FREE!
If you have questions I am happy to assist you on my TS3 server:
Server Address: 37.24.102.157
Please appreciate my work and use the original download links if you have the files on others
Want to offer platforms.
Please also indicate my name in the credits.
If you still have wishes I will give my best to implement this;)
Write me your wishes or suggestions for improvement please by private message!