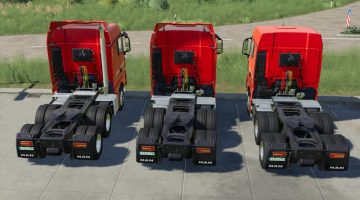 FS19 MAN TGX Semi-Truck Pack v1.0.0.0
MAN TGX 26.440-26.880 as a 3-axle Semitrailer.
Available as 6×2, 6×4 and 6×6.
Automatic lift axle after coupling.
Slidable Trailer plate for optimal trailer positioning
Front coupling for trailers.
Various Shop options and Color Changes.
Daytime running Lights and various other changes
Additional function for small Swap Bodies.
Swap body with small platform and crane already included in the pack.
There is a choice of mount trigger or Tensionbelts on the platform.
The bed can be found under miscellaneous.
Prices:
TGX: 175.000 $
Swap body: 18.000 $