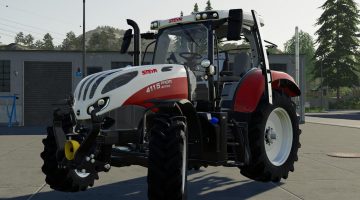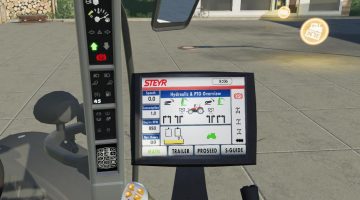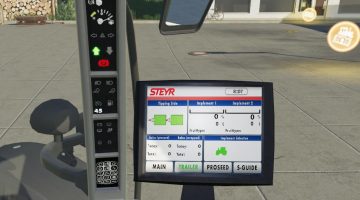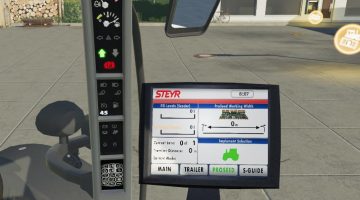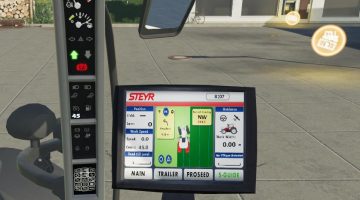 FS19 Steyr Profi CVT with IfkoS, SimpleIC and much more v1.3.0
Steyr Profi CVT with IfkoS terminal, many SimpleIC functions and many configurations in the shop
I hereby offer you version 1.3 of my Steyr Profi CVT.
Shifty and I built a fully animated monitor together with the help of the IfkoS script.
However, many other functions have also been added.
Functions, animations etc:
SimpleIC:
– doors and windows (with sounds)
– many other things in the interior
– engine start
– Hydraulic and PTO control (animated buttons and levers)
– Turn signal control
– various things outside
Shop:
– many tire configurations and cosmetic configurations etc.
Other novelties:
– Universal Passenger
– Seatcam
– Added suspension sound (Credits: Lance)
– cruiseControlExtension installed (thanks for the approval Ifko [nator])
– animatedIndoorParts and JohnDeerePackUtil script installed (Thanks for the approval Ifko [nator])
– Four-sided screen + A column (main page, trailer page, ProSeed page and GPS page) created together with Shifty
Physical and technical changes:
– real MotorSounds and new Sound XML used (Credits: Marcel313, [MW] PeterAH)
– technical adjustments (Credits Kramer14)
A special thank you goes to Ifko [nator] and Shifty for the help and again
Support out.
Now we wish you a lot of fun with the Steyr!
Van3x & Shifty