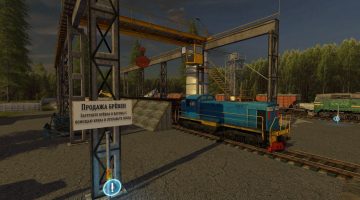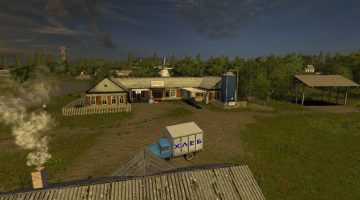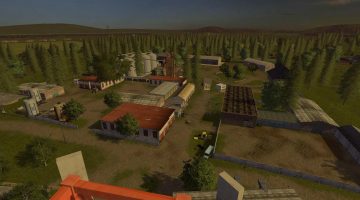 KURAY V1.4 FS17
Good day!
Be sure to connect 3 additional mods:
AAA_UniversalProcessKit.zip
Kuray FS17 mod kotte Milk Barrel zip
Kuray FS17 mod Polonez Caro V2 zip
Kuray FS17 mod Stop Milk Salk zip
Fields on the map will need to be plowed, four fields will be managed by the computer, you will be able to perform tasks on them.
There are a lot of hangars and garages on the base, all of them with functional doors. There is a store of potatoes and beets, hay and straw,
A gasoline storage facility, a wood chips warehouse, a chipper and a sawmill that produces pallets, which you can sell at the railway station,
As well as wood chips. Logs you will need to load with a crane into the train cars and send it. On the map there is a huge forest.
The mill produces flour from wheat and barley, which can be brought to the bakery and get bread. Fish farm producing fresh fish.
Production of compost. BGA produces a digestate from a variety of ingredients, which can be fertilized fields or processed into fertilizers
Both dry and liquid, also get biofuel, which in the future can be sold at a gas station. Greenhouses producing vegetables.
Seed production and production of dry manure.
Thank the author of the envelope you can financially –
Yandex wallet 41001254395928
Kiwi wallet +79095913748
Release
Version 1.1
Added / modified:
– Changed the southern strip of the map. 14 the field became a little smaller.
– ChoppedStraw is added to the map.

Corrected:
– Fixed the second silo pit.
– Fixed some objects collisions.
– Fixed display of train sending poles.
Deleted:
– Removed the store trigger in the garden center.
Version 1.2
Added / modified:
– Reduced dirt splashes
– Added lighting for the dark time of day.
– Cables LEP is now not terrible.
– For some gardens you can now drop in and plant crops.
– In the sawmill and in the forest, convenient storage for logs is installed.
– Added the point "Compost", the sale of liquid and solid manure.
– Added a sawmill icon on the front.
– The warehouse of cultures is a little altered.
– Replaced flickering towers of storage.
Corrected:
– Fixed silo pits, now you can get silage from them all.
– Fixed landing of the forest.
– Fixed animals, now do not hang when eating.
Deleted:
– The collision was removed from the bushes around 14 fields.
Version 1.3
Added / modified:
– Fish farm, produces fresh fish on pallets
– Mill, produces flour on pallets
– Bakery, produces bread on pallets
– BGA produces digestate
– Production of compost
– Seed production
– Production of dry manure
– Production of dry and liquid fertilizers, fuel from digestate
– Sale of pallets at railway station and quay
– Boards are now sold as a separate product
– Bearded beet and potato warehouse moved
– Added another large garage on the base
– Warehouses of seeds and fertilizers (dry and liquid)
– Greenhouses producing vegetables on pallets
– Plates indicating the necessary raw materials
– Animated Animals
– Gates on the base open manually
– All gates and doors can be opened from machinery
– Sale of fuel at a gas station
– Near the barn you can drain any liquid
– Many small additions and changes
Corrected:
– Fixed collision on animal feeders
– Fixed tree crowns
– Many small fixes
Version 1.3.1
Added / modified:
– Plate on the compost
– The weight of pallets is increased up to 2000l
Corrected:
– Fixed conveyor belts for greenhouses
– Fixed tray sale triggers
– Minor changes
Version 1.3.2
Added / modified:
– Tablets
– Miscellaneous add-ons
Corrected:
– Miscellaneous fixes
Version 1.4
Added / modified:
– Added meat processing plant
– Two points of sale of flour
– Added a road along the 12th field
– The garage at the point of discharge of technology is functional, and has a car repair shop
– Added car repair shop to the base
Corrected:
– Fixed economics of sawmill
– Fixed a relief on 12th field
– Fixed silo pits (silage no longer hides under the texture)
– Various minor fixes