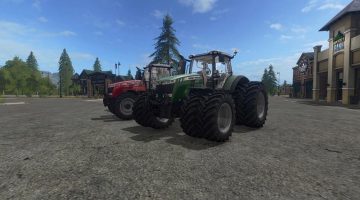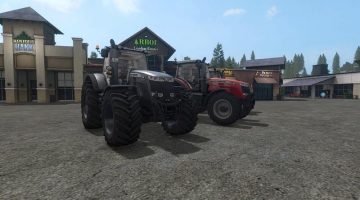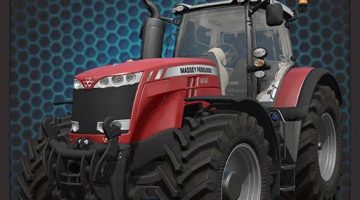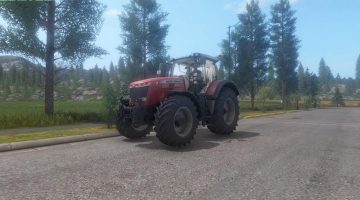 MASSEY FERGUSON 8700ER REIHE DYNAMICHOSE V3.9.0.0 UPDATE FS17
Changelog for V3.9.0.0:
– Color choice extended
– Preparation for AdBlue-, HandBrake-, and OilChange-Mod (Mods do not have to be, goes without)
Important: All ads and animations for the oil change, AdBlue and handbrake go only if you also have the appropriate mods in the modfolder.
These mods do not necessarily have to be used, but are recommended if you want to have the functions in the vehicle as well.
Links to the mods:
OilChange
AdBlue
hand brake
MF 8700:
Update to V3.9.0.0
– 2 additional hydraulic connections at the back (suitable for my It Runner Pack)
– other license plate lighting
– InDoor Sound installed
Here is a converted MF 8700 for you
The conversion is not completely from me, originally it comes from FarmerSteven and is in the
Version 2.5.0.0 available on the modhub.
The following has already been done by FarmerSteven:
– animated door, skylight and rear window
– Interior lighting
– rotatable workboarders per IC
– Door can be opened from the outside
– Wide tires with wheel weights
– Driving lever and accelerator pedal animated
– Care ripening
– Wide tire TM1000
Expansion to V 3.5.0.0:
– 4 new color configurations
(Sapphire blue, graphite gray, lemken blue and a darker green [similar to the color of the JD 6R)
– Black color configuration revised, taken somewhat stronger black
– new additional terminals
(Maschio, Lemken, Bednar, Krone, Samson, Pöttinger, Horsch, Veenhuis and another of MuellerElectronics)
– Connections for DynamicHoses now also front
– rim color choice (same colors as body)
– Change number depending on the engine
(chipped version has the 8700 license plate)
– xml revised
– New engine variants: 8730, 8735 and 8740
– Performance data and values ​​adjusted
Version 3.0.0.0
– small color choice (MF red, Black edition, green, MF gray [as with the rims])
– additional engine configuration with 480HP (8737chipped)
– additional wheel configuration TM1000 + weights
– DynamicHoses connections at the back
– illuminated license plates front and rear
– Lifetime increased (2000) and maintenance costs reduced (from 360 to 300)
– Design choice 1:
– without accessories (without decoration)
– Interior accessories (hammer, gloves, folding rule, drinks, oil can, cooler bag)
– external accessory (tool box)
– complete (exterior and interior accessories)
– Design choice 2: Terminals of different manufacturers in different combinations of:
Müller Electronics, WTK, Amazone, Grimme, Väderstad, Claas, Bergmann, Zunhammer
and a universal terminal built by me.
The terminals are partly lit, but only where it makes sense
So where are they from theDisplays ago too …