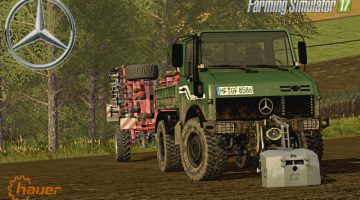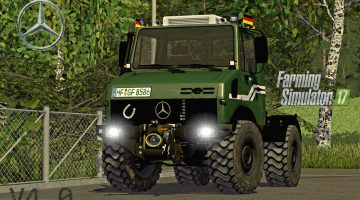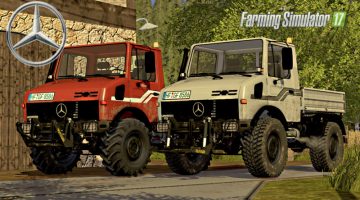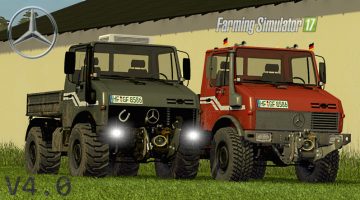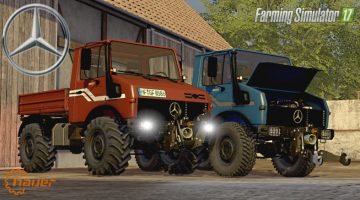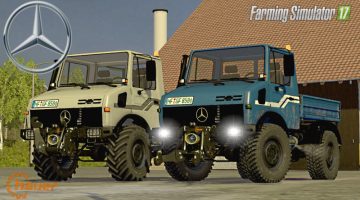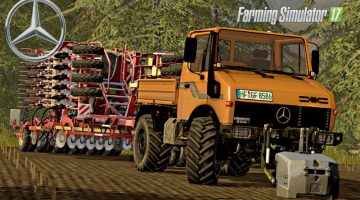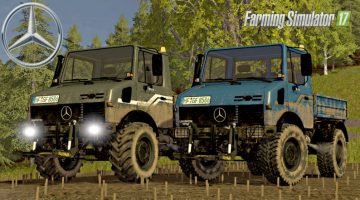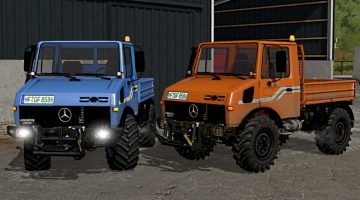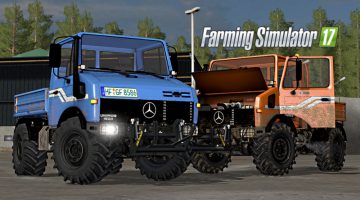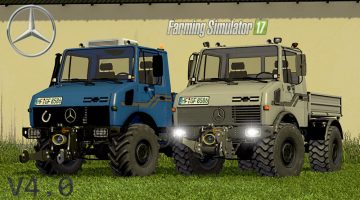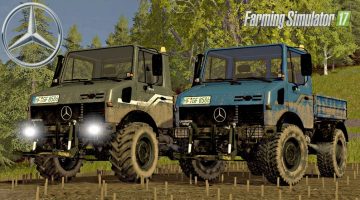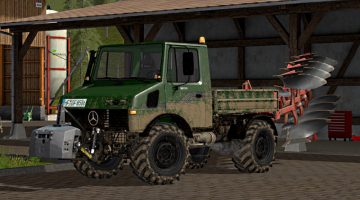 MB Unimog U1200/U1600/U2100 V 4.0 Final Full FS17
Version 4.0 Final Full
Neue Unimog Version! Es hat kleine Fehler korrigiert und viele Design, Räder und Personalisierung Details Konfigurationen!
Änderungen und Neuheit in Version 4.0
– Textur Verbesserung und Farbwechsel
– Änderungen im Fahrzeugschmutz
– Neue Design Konfigurationen mit Grau Karoserrie
– Neue Konfiguration mit Extra Lichter, Trompeten, Fahnen
– Hauer FH Grau Konfiguration
– Hauer FH funktioniert besser, bessere Rotation
– Additive auf IC Tasten – Klimaanlage und dekorative Hufeisen
– Ladeflaeche kann bei dem IC entfernt werden
– Neue Michelin SHA Reifen Konfiguration
– Neue Michelin XL Reifen Konfiguration
– Neue Trelleborg SK 800 Konfiguration
– Änderung der Abgasanimation
– Geladen Dinge besser halten, während der fahrt
– Feste Lenkung und Wenderadius
– Dynamic Hose funktioniert besser
– Verbesserte IC Animation
– Verbesserung der Beleuchtung
– ändere Position der Kamera
* Bitte respektiere meinen Arbeitbeitrag ändere den Link nicht!
* Bitte machen Sie keine Änderungen ohne mein Wissen!
Hello! A completely new version of Unimog, with new features and improved errors that have been reported to me.
Design changes:
– Select all available colors (Multicolor option)
– Initial color marked as orange, communal
– Choose from 2 versions of stripes: dark and light
– The rims are black, but as additional configurations, there are options with silver rims (SR in configurations!)
Front hydraulic changes:
– Change the rotation, raise higher the device
– Possibility to fold front hydraulics with IC buttons
– Changes of the texture of front hydraulics, gloss and dirt
Wheels changes:
– New tire configurations: Nokian
– New tire configurations: Michelin
– Improved suspension and wheel position. They are not so visible in the cabin.
Other changes:
– New engine variant with more power: U2100
– Now the worker is switched on H button
– Improvement of front lighting
– change position of the camera
– Improved IC animation
– Reduced file size of more than 25 MB. in the game Unimog is better optimized!
Hier ist eine ganz neue Unimog-Serie!
Konfigurationen:
Motor U1200
Motor U1600
Rad Konfiguration Normal
Rad Konfiguration Breit
Neue Texturen und Farben:
Normal, orange-kommunal
Blau
Dunkelgrün
Neue Skripte:
Dynamisches Abgas
Beifahrer Option
Dynamischer Schlauch
Neue V2 Änderungen/Funktionen:
Animierte Teile
Arbeitsleuchten und Fahrerhaus Lichter
Türöffner
Indoor Huds Animation
Texturänderungen
Neue Räder, Felgen, Reifen
Andere Fahrzeugphysik, max. 80 km/h
Hinzugefügt der untere Haken für Maschinen
Motorversionen, Zusätzliche Details für das Motormodell!
Geänderte Kameras & Lichter
Keine log fehler