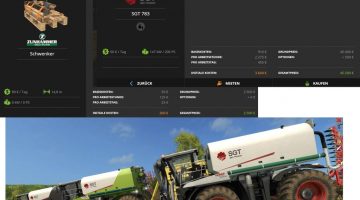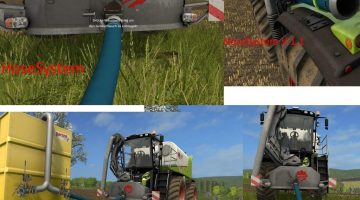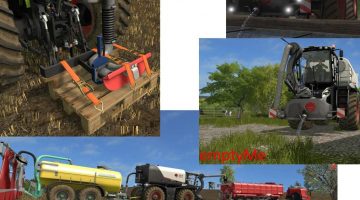 SGT Slurrytank with spreader for Claas Xerion Sattletrac FS17
Hello everyone.
Today i want to introduce my editing of the SGT slurrytank for the Claas Sattletrac from Smety. I would like to emphasize it again: This is Smetys mod. I have just edited it. Unfortunately there is no release by Smety. I tried to contact him on several ways, but i did not receive any response. Since i waited since 12. September for an answer and FS19 will appaer soon and Smetys mod, at least with me, did not work well, so i decided to puplish my revision.
I hope this is ok for you. If somebody has contact to Smety: Please tell him about my release. Maybe he want to contact me after all.
Credits:
Model ingame: FS15: Smety, Angelus; FS17: Smety;
Others: monteur1, upsidedown, Bayerbua, Wopster, Xentro, Sven777b, Blacky_BPG, Giants
Please report, if i forgot someone.
Mod:
SGT Slurrytank for Claas Xerion Sattletrac by Smety
Volume: 16000 liters
Load: Water, slurry, digestate
Emptied with emptyme script by Blacky_BPG
Compatible with hosesystem mod V.1.1 by Wopster and Xentro. This means slurry / digestate can be charged and discharged by hose or pipe. With the hoses the tank can also be emptied (sorry for the slurry animation when water is emptied).
There is a buyable holder for a hose
Compatible with the Gullepack by monteur1. With the pipe the tank can be filled on vehicles of that pack
The tank can also, according to the Giants standard, be filled by approach to the slurry storage
Can also be used as a water carrier and to water the animals
Analogous to Smetys sattletrac the colours black, white and Claas green can be chosen. White is cheaper because it was applied manually
The tank works with the Giants helper, AIVehicleExtension and with courseplay
There is also a slurry spreader with an Zunhammer head