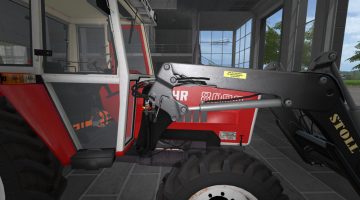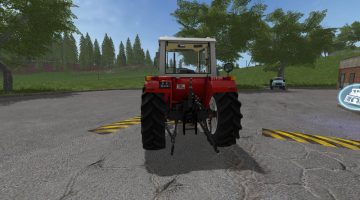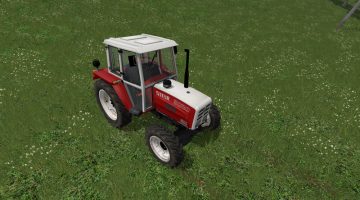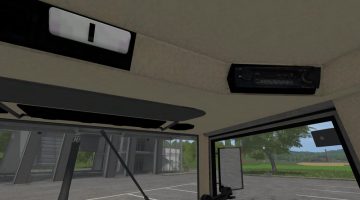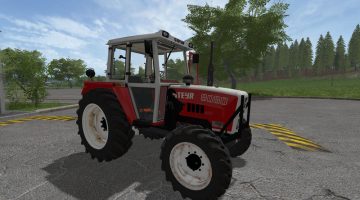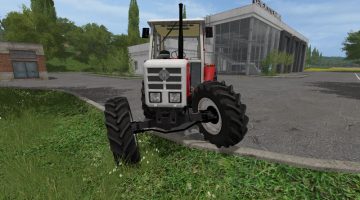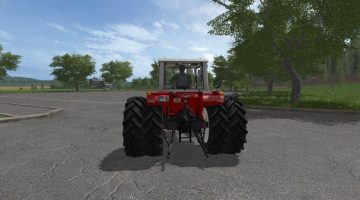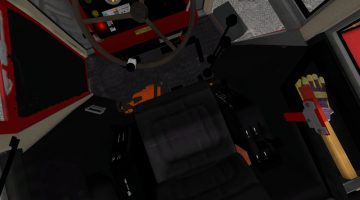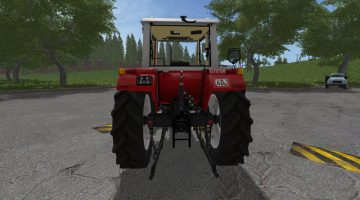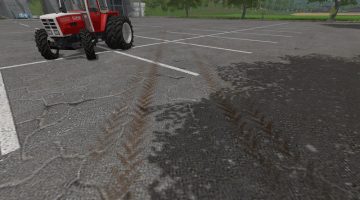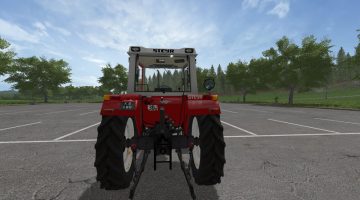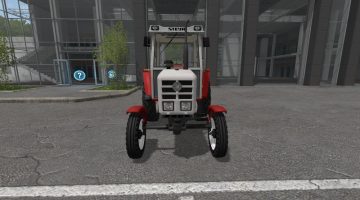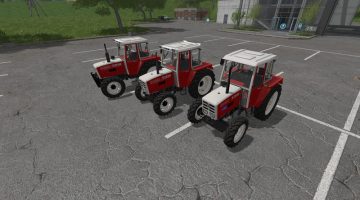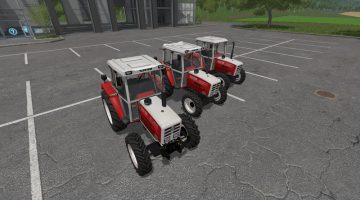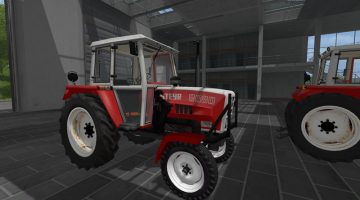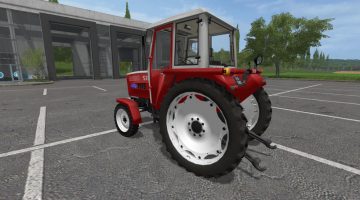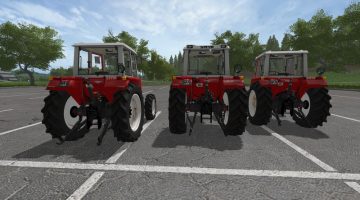 STEYR 8080 Turbo SK1 V 2.0 FS17
Version 2
– Arbeisscheinis added
– 3.xml inserted, a version with 40 kmh gearbox (16/8) gears
– other Dieseltank installed
– design confi slightly revised
– texture slightly reworked / brighter
8080 SK1:
(without turbo lettering, 70 hp)
– BJ 83 (exhaust pipe) – 16/8 speed -> 30 kmh 8080 Turbo SK1
– BJ 1979 (fitted with valve) – BJ 1979 (bent pipe) + inclined plates at the front of the rear cotis : (with turbo lettering, 72 hp) – BJ 85 (exhaust + flap) – BJ 85 (kinked pipe) – available as 2WD + 4WD – SK2 roof can be purchased (Desing Konfi)
– 16/8 speed -> 40 kmh
8080a Turbo SK1 ÜS:
(with turbo lettering, 72 hp)
– BJ 86 (exhaust + flap)
– BJ 86 (kinked tube)
– available only as 4WD
– available SK2 roof (design Konfi )
– STEYRMatic 16/16 speed -> 40 kmh
Hello, today we introduce you the LS17 version of the STEYR 8080 Turbo SK1.
It will remain the only SK1 model for LS17, but there will be updates. This tractor is intended for people who like to play with old-timer as a supplement to the Plus 768. It has a 30 kmh transmission with 16v / 8r gears.
INFO: Construction
period: 197 (8) 9- 1995 / (96)
Engine: Steyr WD411.88 (70hp, from 1984 1984 hp)
Transmission: Synchronized STEYR group transmission with 16 forward / 8 reverse gears, 30 kmh execution
Tank contents: 86l
dead weight : ca 3300 kg
Type plate attached
Sound is from a STEYR 8080 Turbo SK2
A big THANKS goes to forbidden-mods for the release to the Siloking terminal.
Functions:
from the outside:
Fender
on / off front Fitting / removing button R (only for 2WD, 4WD does not have front mudguards) Doors on / off Button R
Open / close left door Button R
Snow chains (front / rear)
Shop Configurations: Towing Couplings
:
Standard / Traction Front: (atacher Joint Installed) Front Hydraulics
+ Front Pipe (Dynamic Hose ready)
Front loader attachment:
(Dynamic Hose ready)
with front protection
without front protection
Engine version : 70 hp without "Turbo" lettering on the bonnet:
Exhaust + flap BJ 79 (including sticker, STEYR Weltmeister Serie 1979)
Exhaust pipe BJ 82
low noise Exhaust 1 (not original, retrofitted / selfmade)
72 hp with "turbo "Lettering on bonnet:
Exhaust + flap BJ 84
Exhaust pipe BJ 85
Low noise Exhaust 2 (not original, retrofitted / selfmade)
Wheel set:
4WD:
Original: front: 280/85 / R24 rear: 340/85 / R38
standard: front: 360/70 / R24 rear: 420/85 / R34
Original + standard: front: 280/85 / R24 rear : 420/85 / R34
Standard + twins: front: 360/70 / R24 rear: 420/85 / R34 + twins
2WD:
Original: front: from the rear 768 rear:
340/85 / R38 Frontal: from the rear 768 rear : 230/95 / R44
Design:
STEYR roof
mount front STEYR roof trim front + rear
Other functions:
IC control:
rear, side windows and doors (including door closing
sound ) for opening / closing FH sub-steering, passenger footrest and sun visor fold-in / fold-out
windscreen wiper
cabine
light Siloking Terminal fade-in / fade-out
Animated / illuminated:
Tachometer, tank and temperature
indicator as well as pressure gauge Indicator indicators / warning indicators (including indicator light (from a Steyr 8130a SK2))
Indicator / warning light indicator works as in real:
tractor alone = 1 lantern flashing
tractor + 1 trailer = 2 lights flashing
Tractor + 2 trailers = 3 lights flashing
Indicator
lights Charge indicator light integrated (battery lit jz at engine start)
"provisional" animated pedals; Accelerator pedal, brake pedal + clutch: IMPORTANT! Drive control with active reversing circuit (green arrow must be visible -> direction change) otherwise the pedal animation does not fit. (Select tractor)
at tractor selected without trailer / equipment: animated rear hydraulics + lever (right in the tractor) BUTTON V,
animated lever for the PTO coupling (left in the tractor) BUTTON B is a small toy so that something moves in the cabin is pure Optics, so that the levers with attached devices move along requires a suitable script, we guess. 🙂 When trailers are attached, you can lift the HH (rear hydraulics) (tractor must be selected) and the lever moves.
The lever for the ZWK (Zapfwellekupplung) can be switched on / off at any time (tractor must be selected), it has no function, it is purely optical.
Other:
textures revised
model was revised
chainsaw as decoration built
real tires Diem Sonen were used
washable
indoor sound (responds to open disks or doors)
work light front button NUM 5
working light behind key NUM 6
swing axle
passenger script installed
low beam + high beam + elaboration light somewhat yellowish and in real life
Required / Recommended Mods:
Front-equipment-Pack:
http://www.fsmods17.com/steyr-front-equipment-pack-v2-0-fs17/
Drive Control:
http://www.fsmods17.com/drive-control-v-4-03-fs17/
Front loaders:
http://www.fsmods17.com/stoll-fz30d72-dynamichoses-2-0-0-fs17/
Gearbox Add On:
http://www.fsmods17.com/gearbox-addon-v1-5-fixed-edition-fs17/