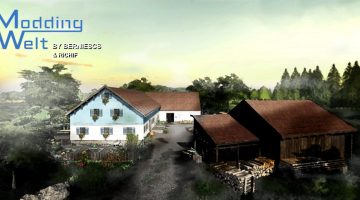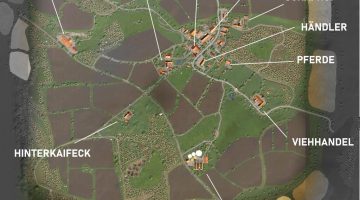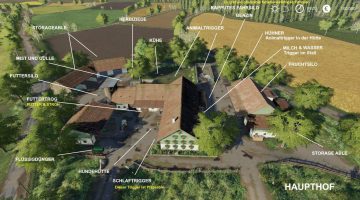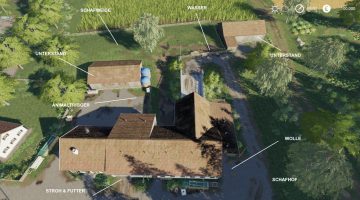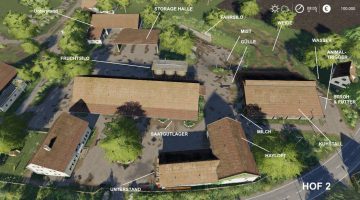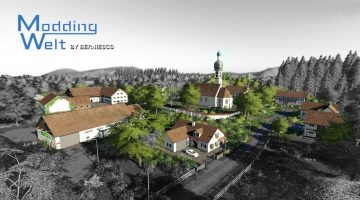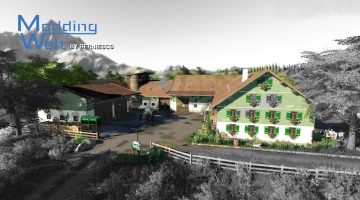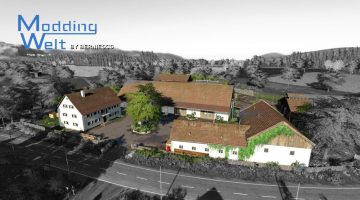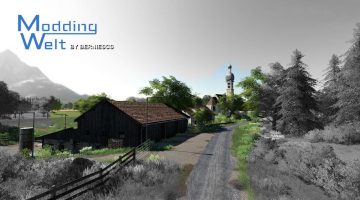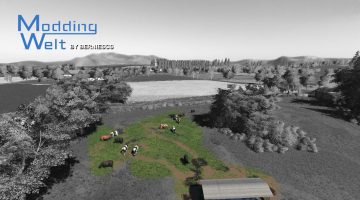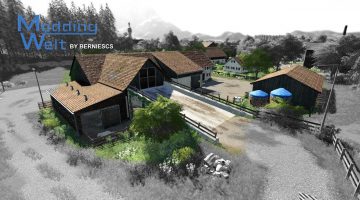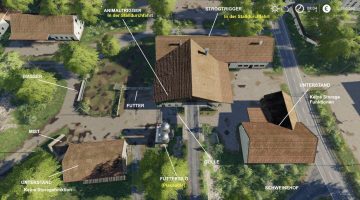 FS19 HINTERKAIFECK MAP v3.0
Hello, here is the V3 of the Hinterkaifeck and thus the last version of the map.
What was done:
– The script SeasonsAnimalDeathFix.lua from [Ifko] nator installed so that the decorative cows no longer die. Many thanks to you for the permission to install this in this map;)
– The script l10nFix.lua from Ifko [nator] installed so that the additional fruit types are translated correctly. Many thanks to you for the permission to install this in this map;)
– Textures of the fruits are now loaded from the map and no longer from the game (texture exchange possible)
– Installed the bale trigger in the horse stable so that you can also throw in straw bales. In addition, manure is also produced on the horses.
– Fixed the particle system at the OGF farm from seed / lime / fertilizer storage
– The traffic is now a little bit faster
– Various minor fixes and adjustments
A new game state is required if you want to play this version (V3) of the map
a small pre-Christmas present from the modding world
The Hinterkaifeck Map.
We really hope you enjoy it and have a lot of fun on the map.
The map was tested for errors .. but as it is in life, mistakes are always overlooked.
I would be grateful if you would also look for the remaining bugs. I promise to fix this quickly
This time I got a lot of support from the following people:
RitchiF, for the MapLayout in forest, country lanes and fields.
HoFFi, who created the terrain via googlemaps
Our testers: Lea Torash & V8ScaniaV8 & Zetor6245 Sorry one I had forgotten our little MR MR MR MR MR MCBEEEEEEEEE (sorry old boy)
Thank you very much guys!
The map has the following field sizes:
Field 1 (field01): 1,755 ha
Field 2 (field02): 1,666 ha
Field 3 (field03): 2,197 ha
Field 4 (field04): 1,476 ha
Field 5 (field05): 1,668 ha
Field 6 (field06): 3,139 ha
Field 7 (field07): 2,147 ha
Field 8 (field08): 2,408 ha
Field 9 (field09): 2,953 ha
Field 10 (field10): 3,726 ha
Field 11 (field11): 0.647 ha
Field 12 (field12): 1,006 ha
Field 13 (field13): 2,660 ha
Field 14 (field14): 4,922 ha
Field 15 (field15): 4,166 ha
Field 16 (field16): 2,578 ha
Field 17 (field17): 0.880 ha
Field 18 (field18): 1,496 ha
Field 19 (field19): 0.423 ha
Field 20 (field20): 1,400 ha
Field 21 (field21): 2,083 ha
Field 22 (field22): 1,439 ha
Field 23 (field23): 1,878 ha
Field 24 (field24): 1,453 ha
Field 25 (field25): 3,941 ha
Field 26 (field24): 4,053 ha
Field 27 (field25): 1,452 ha
Field 28 (field26): 3,515 ha
Field 29 (field27): 4,072 ha
Field 30 (field28): 2,207 ha
Field 31 (field29): 5,398 ha
Field 32 (field30): 3,178 ha
Field 33 (field31): 2,495 ha
Field 34 (field32): 1,967 ha
Field 35 (field33): 3,738 ha
Field 36 (field34): 1,342 ha
Field 37 (field35): 1,944 ha
Field 38 (field36): 2,777 ha
I hope you like the map !! Lg BernieSCS