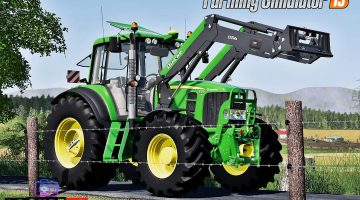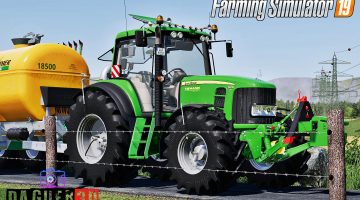 FS19 John Deere 6030 Premium Series v3.0.0.0
Hello Farming Simulator 19 players!
I presenting my official new version-V3 John Deere 6030 Premium Series for FS2019. In the new version mod has been completely rebuilt.
I added all animations for Simple IC mod (Working with Courseplay!)
Mod has new configurations, new sounds, new real dirt texture, new and fixed animations, new details in the model and many more features.
I spent a few weeks on this mod.I hope you will like the mod and and you'll appreciate my effort.
I hope you like mod.
Changes in 3.0:
* New Real dirt texture
* Added Simple IC Animations (mod working with Courseplay)
* New sounds
* Rims color configuration
* Opening doors, sunroof, side windows and back window [Simple IC] * Foldable Warning Sings [Simple IC] * Animation Steering Column [Simple IC] * Animated sun visors [Simple IC] * Roof configuration —> Standard and Panoramic
* Doors configuration —> Standard and Panoramic
* Yara N-Sensor configuration —> 2 types
* Stickers configuration —> Tiemann, Rebo, Krone
* FL protection configuration
* Wide Fender configuration
* Fixed mirrors
* New details in model
* New wheels configuration
* Deere On Bonnet configuration
* CB Radio configuration
* Front Number plates configuration
* Beacons configuration
* Horn trumpers and Top Lights Konfiguration
* And other new functions and fixed bugs …
John Deere 6030 Premium Premium Features:
– UDIM Textures
– Washable and Wearable
– Animated joystick
– Movable front axle
– RDA in wheels
– 4 types Tires —> Trelleborg, Michelin, Mitas and Continetnal
– Seat suspension
– Warning Sings configuration
– Configuration selection —>  front weights or front hydraulic
– 4 types Front Loader Consoles —> John Deere, Stoll, Hauer and Aloe (Trima/Quicke)
– 37 types wheels configuration
– 5 types engine power versions —> 6530P, 6630P, 6830P, 6930P and 6930P chip
– Pedals animation in the cabin
– Interior light
– Exhaust configuration —> Standard and Chrom
– GPS configuration
– Terminals configuration
– Movable Revers Swith
– Working lights, turn signals, brake lights
– Displays animated
– Animated hydraulic
– Animation wiper
– And more other features…