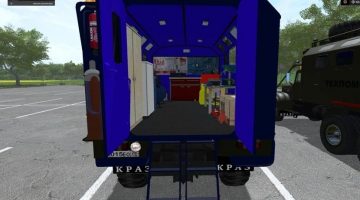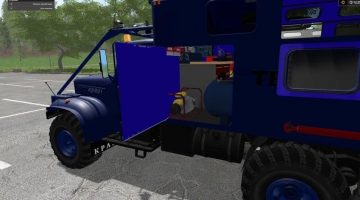 Kraz Service Truck v1.0 FS17
Function: mobile workshop. In mod-pack enters Kraz 255B laptevnik and trailer.
Kraz-255B-laptezhnik technical assistance cost 80500 rubles, and maintenance 140 per day. The engine output is 278 kW / 378 hp, with a speed of 75 km / h. There is an animation of the entire running gear, kardans, mud flaps. All the doors, the hood, the windows on the kunga are opened when the equipment is serviced, all doors, windows are opened and the compressor's sound is turned on. In general, almost all animated, while the engine is running fan and air in the kunga to supply air to the kung. There is a choice of the color of the machine, discs can separately paint the arc, mirror, dashboard. Doors open-close: left-7, right-9, bonnet hood-8, hood-4 itself, lower the glass: left-N, right-M. The dashboard is animated. Trailer service for refueling and maintenance of agricultural equipment and machinery. In the trailer there is a tank that can be filled with fuel and then refueling equipment, and also from the trailer you can fill with seeds, fertilizers and repair equipment. The cost of the trailer is 18,000 rubles, maintenance is 100 per day. In the trailer there is a choice of body color, discs, awning. There is animation of the running gear, mudguards of anti-recyclers.